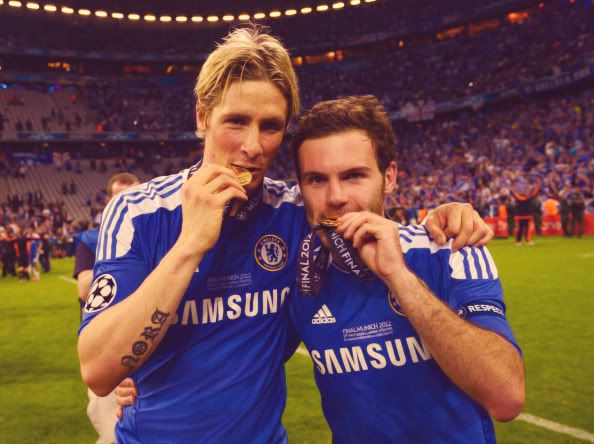 Decided to do these in installments so there'll be two or three more parts :333 You can still vote for the remaining 11 categories, goooo! hairwego


So anyway, here are the winners for Hero, Dish & Villain from the votes you guys made.





THE KANYE WEST AWARD FOR HERO OF THE SEASON

DR ANDREW DEANER
Tottenham

DIDIER DROGBA
Chelsea
VINCENT KOMPANY
Man City
FABRICE MUAMBA
Bolton Wanderers
ROBIN VAN PERSIE
Arsenal
Attending the game with his brothers was Spurs fan and cardiologist Andrew Deaner. Muamba "fell like a tree trunk", and Deaner raced onto the pitch to save him. He then persuaded the ambulance crew to change their plans to take Muamba to a hospital in Bethnal Green instead of a closer North Middlesex one, as that was the hospital he worked at and he knew it had the specialist equipment required to bring Muamba back to life. In a life-or-death situation when every second that passed was vital, this Good Samaritan's decision-making literally saved a life.
Football fans have often had somewhat of a tempestuous relationship with the big Ivorian striker, who intersperses his excellent natural skill with annoying bouts of play-acting. But to paraphrase Marilyn Monroe, if Chelsea fans can't take Drogba at his worst, then we sure as hell don't deserve him at his best. And in scoring crucial goals in the FA Cup final, CL final as well as the spot-kick that made Chelsea the first London team to win the Champions League trophy, things don't get any bloody better than that. Adieu, mon Coeur. You will be missed.
Following scoring the winning goal in the Manchester derby last month, Vincent Kompany stayed outside the stadium until midnight signing autographs for his fans, an extremely classy touch from an extremely classy man. In a league with countless primadonnas, Kompany's selfless humble behaviour has been a rare beacon of light, and he has even managed to bring unity to a dressing room as fractious as the one in the Etihad. As eloquent off the pitch as he is excellent on it, a lot of neutrals found themselves rooting for City in the title race for their sweetheart of a captain.
When Muamba had a heart attack on the pitch during the FA Cup game between Spurs and Bolton, the football world was rocked. We have idealised visions of footballers as healthy, happy beings who things like heart attacks don't happen to, but the truth is, they're just as susceptible as we are. Muamba's recovery was something of a medical marvel as his heart actually stopped, but we thank God – and all the heroic ambulance and medical staff- that he did come back to life. Seeing beautiful images of him playing with his son really reinforced something that we all know but often forget in the haze of the game – that there are some things in life that are far, far more important than football.
Arsenal's flying Dutchman was their captain and saving grace throughout the season, without whom, Champions League Football next season would not be possible. His goals, many of them stunning to watch, leadership and all-round performances have been crucial in a season where Arsenal seemed to flail at various points and the forward has been excellent for his team from start to finish. As they say, who needs Batman when you've got Robin?

Finalists: The Aston Villa captain STYLIAN PETROV bravely battled leukaemia | GARY NEVILLE transformed himself from a footballer with a reputation for rubbing opposition fans up the wrong way into a well-informed and erudite pundit | THIERRY HENRY's LDN homecoming brought nostalgic tears of delight from Gooners and he scored some vital goals in his short stay
Semi finalists: YAYA TOURE & GRANT HOLT
THE ZAYN MALIK AWARD FOR NICEST TO LOOK AT

DANIEL AGGER
Liverpool

SCOTT PARKER
Tottenham
DAVID SILVA
Man City
FERNANDO TORRES
Chelsea
THOMAS VERMAELEN
Arsenal
Agger combines two very different looks – the innocent boy next door and the hardman – all with a liberal dose of freckles and tattoos to make women swoon.
The way that Scotty Parker flicks his RAF pilot hair throughout the season gets us all very overwhelmed :333333
Often looking like an Anime character at times, Mr Silvapuff was the cutest playmaker to assist his way to the title this season.
The freckles, the dreamy eyes and the perpetual forlorn look he wore on his face. He even got extra blonde highlights put in for the CL final. Now just work on scoring more goals, Fernando!
One word: cheekbones.

Finalists: AVB looked like a taller, sexier Juan Mata | YOHAN CABAYE exuded sexy French swagger | JOE HART was the epitome of the tall blonde cheeky chappy and made chewing gum alluring
Semi finalists: AARON RAMSEY & ADAM JOHNSON
THE TOM MARVOLO RIDDLE AWARD FOR VILLAIN OF THE SEASON

JOEY BARTON
QPR

SEPP BLATTER

THEIR PR DEPARTMENT
Liverpool

LUIS SUAREZ
Liverpool
JOHN TERRY
Chelsea
QPR's captain brought nothing but disgrace to himself throughout the season, whether it be picking fights with Aguero, Tevez and Kompany on the pitch, or picking fights with cast members of The Only Way is Essex is off it. Perpetually angry at the world, Barton was no stranger to making enemies this year, and he got himself sent off on the last day of the season, when QPR fans were relying on him the most. Hilariously, he'd tried to establish himself as some kind of hipster on Twitter, copying & pasting large chunks of Camus and Nietzsche as if he was something special. Son, you wasn't even special enough for me to bother prettying up the photo of you on Photoshop.
Sepp Blatter is a man so mired in the prehistoric ages that he believes that racist abuse should be brushed under the carpet and solved with the simple shake of a hand. When posed with the question of whether or not he thought racism was present in the modern game, he said, "I would deny it. There is no racism." What planet is this man living on?
As much as Suárez was culpable in the race row, Liverpool's PR department handed it atrociously. The whole thing was a train wreck from start to finish, from the cringe-inducing statement that was widely mocked in the Media for its "but I have black friends so I can't be racist!!!!111oneoneoneone" overtones to the Suárez T-shirts that all the Liverpool team wore when warming up for their game at Wigan. Club loyalties and protecting your player are all very well, but to do so as blindly as Liverpool did was a gigantic own goal for all involved.
Regardless of whether or not it's acceptable to call someone a "negrito" in Uruguay, in England, it most certainly is not. That should have been the end of it, and Suarez should have duly apologised to Evra. But of course it wasn't, and the forward was – quite rightly – slapped with a ban. Many would have taken their punishment meekly and be done with it. But no, not Luis – at the Northwest derby, as Evra held out a hand as an olive branch, Suarez walked on, ignoring it. And then after the long fallout of that, he has recently re-opened the case by accusing the FA of victimization. Will this man never learn?
Chelsea's ~captain, leader, legend~ got his team in a lot trouble this season, from racially abusing Anton Ferdinand (and then coming up with a lie flimsier than Lady Gaga's negligee to try and cover for it) to getting sent off against Barcelona, leaving the team with an uphill battle. That his apology in the club's programme had a confrontational edge showed that he still wasn't accepting responsibility for his actions. That he chose to celebrate the Champions League final in his full kit, as if he'd played in the final – shows that the man really has no shame. That he finished the season a Double Winner as well as Rio Ferdinand and Spurs fans being the two biggest collateral damages from his thuggish ways shows that thing that we all know – life is unfair.

Finalists: STOKE FANS booing Aaron Ramsey for having the temerity to have his leg broken by one of their players was victim-blaming at the very worst | CARLOS TEVEZ was the embodiment of the modern mercenary footballer, complaining that Mancini treated him "like a dog". I don't know many dogs who are on £250k a week, js | GEOFF SHREEVES tried to ruin Branislav Ivanovic's moment by casually telling him he wouldn't be playing in the final, but the Chelseaboys got sweet revenge after the CL final when John Obi Mikel stole the microphone off him and wouldn't give it back

Semi finalists: VENKY'S & ASHLEY YOUNG

Don't like the pix? You can still do something about it, go vote for the remaining 11 categories!