• Bolton say player 'in a critically ill condition'
• FA Cup tie at Tottenham abandoned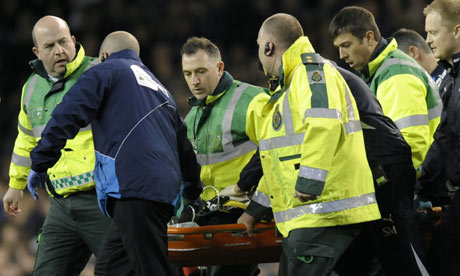 The FA Cup quarter-final between Tottenham Hotspur and Bolton Wanderers was abandoned just before half-time on Saturday night after the Bolton midfielder Fabrice Muamba collapsed on the pitch. The 23-year-old was taken to hospital after receiving medical treatment on the pitch and Bolton later issued a statement saying that he was "in a critically ill condition in intensive care" at the heart attack centre at the London Chest Hospital.
It was unclear what caused the Bolton player to fall down in the 42nd minute with the score level at 1-1, but he was in obvious distress. Players and staff immediately realised the seriousness of the situation, with Tottenham's players gesturing frantically for the paramedics to come on. The medical teams sprinted to the scene. Muamba lost consciousness and several attempts were made to resuscitate him on the pitch using CPR. Bolton's manager, Owen Coyle, shouted: "He's just collapsed," before running across to join the paramedics and looked on as the medical team struggled to revive his stricken player.
After six minutes of receiving heart massage, Muamba was carried off the pitch with a defibrillator being used. Efforts to revive him continued as he was transferred to an ambulance. Coyle, and Bolton's club captain, Kevin Davies, accompanied Muamba to hospital.
The referee, Howard Webb, consulted both managers and the two captains, Nigel Reo-Coker and Scott Parker, and took the players off the pitch. A few minutes later it was announced that the match was abandoned. No explanation was given but the crowd began chanting Muamba's name and applauded before filing out quietly.
Spurs said in a statement: "Tottenham can confirm that Fabrice Muamba has been taken to hospital following his collapse on the pitch during the match at White Hart Lane this evening. The match was immediately abandoned. Everyone at the club sends their best wishes to Fabrice and his family."
(
Read more...
Collapse
)