Grading Sunil Gulati
By Leander Schaerlaeckens
ESPN.com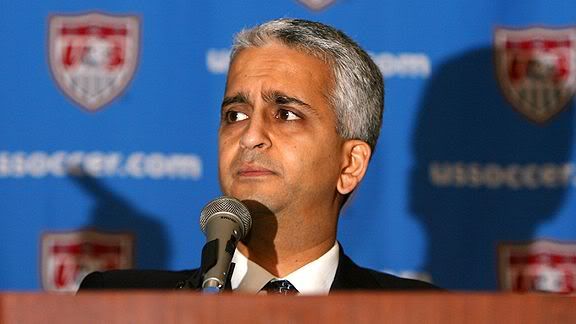 His two worlds are all tangled up in a 6-by-12 office on the 10th floor. Every last inch of the walls is covered by framed pictures -- some of the U.S. national team winning things, others of him with the likes of Bill Clinton and Nelson Mandela. Four shelves are dominated by books on economics and soccer, interspersed with the odd interloper like "Twelve Steps to a Compassionate Life."
He has a few minutes to kill before he has to go teach a class. He spends them on the phone discussing possible formats for the next round of World Cup qualifiers in the CONCACAF region. Then he slides his jacket over his white shirt -- embroidered on the left cuff with "SKG" for Sunil Kumar Gulati -- and becomes an economics lecturer at Columbia University rather than the president of the United States Soccer Federation.
In a musky Upper West Side auditorium, Gulati, 51, stares out at 190 red-eyed, wet-haired Ivy League underclassmen. The students dutifully copy down Gulati's graphs on "autarky" and "the slope on the production possibility frontier." His pacing is precise -- four steps to the left, four to the right, repeat -- and indistinguishable from when he gave the U.S.'s final presentation to FIFA's Executive Committee in an ultimately futile attempt to land the 2022 World Cup in Zurich this past December.
Gulati cracks jokes, pitches his voice out to the back of the room and repeats what matters two or three times. He's a good lecturer and a popular one. Every fall, students camp out all night to register for his sports economics class. (Guest speakers have included NBA commissioner David Stern and MLS commissioner Don Garber.) On CULPA, Columbia's anonymous underground-professor-ratings website, a gushy student said he could have done better than an A-minus with a more forgiving "Principles of Economics" professor than Gulati, who is known as a tough grader and a pop-quiz enthusiast. But, the student wrote, "I wouldn't trade my experience in Gulati's Principles for any other class. Absolutely inspiring, he demonstrates what's exciting and interesting about economics."
Gulati spots a girl in a Liverpool jersey, the club that beat Manchester United 3-1 the day before.
"Would you have worn that if they had lost?" he asks her.
"Yeah," the girl says.
"I don't believe you," Gulati fires back with a smile.
After class, he retreats to his office, where a slew of new soccer-related emails await. But two coeds walk in. "Boyfriend trouble I can help you with?" Gulati quips. No, the girls have questions about a mock exam. Gulati explains something he has been explaining for 20-odd years with the patience only a father of two can have. His immaculately coiffed, silvery hair and Bambi-like eyes are offset by his nutmeg skin. [did you steal that line from a fic, dude?]
Not long after, Gulati takes nine shy freshmen from his class to lunch. He tells stories, shows them the view of Harlem from the balcony and talks about his own kids. But he is working a tough crowd. Mostly, his students want to know about grading. "[Chairman of the Fed Ben] Bernanke and I are the only ones fighting inflation," he answers. [lol]
Gulati, a vegetarian, pokes fun at one student, a former gymnast from Utah who says he's never watched a soccer game -- because naturally the conversation has turned to soccer. Gulati is forever taking the temperature of his sport, then spends the rest of the meal lamenting Giuseppe Rossi's defection to Italy. [looool]

Gulati's profession and his hobby bleed into each other to the point where it's hard to tell which is which.
---
Most people may not have noticed, but with playing key roles in landing and staging the '94 World Cup, setting up Major League Soccer and the now-defunct WUSA pro leagues, organizing the '99 and '03 Women's World Cups and leading the '22 bid, Gulati has quietly become the most influential person in the history of American soccer. "I think that's fair," says retired National Soccer Hall of Fame director Jack Huckel. "The only one you'd consider as a rival is Pelé, because he made the sport more a part of America. But over time, one would have to say that Sunil certainly had a lot to do with where the game is in modern America right now. And he's still got legacy to come."
"Sunil has been a vital ingredient in the development of soccer in this country at every level for 35 years now," says Alan Rothenberg, the influential U.S. Soccer president from 1990 through 1998. "He's been front and center on all the major developments. Sunil to this day probably has more understanding and knowledge of every part of the sport in our country and how they relate than anybody I've come across."
In Gulati's three-and-a-half decades in the sport, in which he has held no fewer than 69 administrative positions in amateur, pro and international soccer, the American game has grown considerably. And according to insiders, a once barely solvent federation marred by infighting and a poor relationship with FIFA's Executive Committee, those World Cup kingmakers, is now considerably better off on all those fronts, even in light of the failed 2022 bid.
"I think a lot of that has happened in the last couple of years under Sunil's watch," says D.C. United president Kevin Payne, who spent years working alongside Gulati at the federation.
---
An unwieldy paradox mars Gulati's public image. He presides over the biggest participator sport in the country, played by more registered people in the U.S. -- 18 million, according to FIFA -- than anywhere else in the world. And he's done more for the sport in this country than anybody else, ever.
But that's not what soccer's American fan base associates him with. It sees none of that. What it does see is how he hired Bob Bradley to coach the national team in 2006 rather than the preferred Jurgen Klinsmann, whom fans were convinced could elevate the national team with his international playing and managerial experience. And fans see that Gulati failed to bring home the 2022 World Cup, losing to Qatar and blowing what was perceived as a straightforward task -- straightforward until the recent FIFA crisis cast many decisions in a dark light and had everyone doing double takes.
Go on any American soccer blog and you'll have no trouble finding both measured criticisms and outright diatribes directed at Gulati. Collectively, the loud core of national team fans seems almost to loathe him.
Gulati has learned to cope with criticism. "People have strong opinions about sports," he says, resting his legs on a desk, the way he does for much of our conversation. "I accept that and understand that. It's all part of the game. I don't know any situation in a leadership role where you're going to get approval ratings of 80 or 90 percent very often. You just deal with it."
More than anything, Gulati reasons, public criticism is a staple of the wired generation. "The age of communication we're in allows everyone to have a megaphone," he says. "It used to be three guys talking in a bar, but now everybody has a private blog or website, and people don't know if it's [veteran New York Times writer] George Vecsey writing or some guy." And that isn't altogether a bad thing. It shows they care. "The fact that people are fanatics and supporters -- it's a good thing that people are excited about it," Gulati says.

Internet reactionaries are easily moved to respond with negativity, sometimes forming an irate minority that drowns out a content majority, Gulati argues. "I got a lot of emails after the decision to hire Bob Bradley," he says. "I didn't get hundreds of emails from the people that thought that was the right thing to do. What I got were emails from people who thought we should hire someone else." Gulati, by the way, as per his standing policy, responded to all messages that weren't vulgar or threatening.
Although he's come to accept the personal attacks, Gulati, who reads the blogs and message boards to track fan sentiment, isn't impervious to them. "I don't think anybody that says, 'It doesn't bother me at all' is being totally honest," he says. "We'd all like to be liked." [awww]
But he stands by the decision to hire Bradley over Klinsmann, who reportedly asked for too much control. "I think [Bob's] record speaks for itself," Gulati says. "I had a lot of confidence in Bob. He's intelligent, a hard worker, knows the game, knowledgeable, and when you get to know him he's got a great sense of humor. I trust him. He's got an extraordinary amount of integrity, and he's a damn good coach."
That being the case, there were only two options in Gulati's mind after last summer's World Cup: rehire Bradley or lure Klinsmann. No other candidates were considered.
"That was a lot of discussion and deliberation," Gulati says. "The issue wasn't if Bob is a good coach but if you get stagnant in that second term. In the end, is a change a good idea? We decided we'd try to make the best out of any of those concerns we had and that he was the best choice."
Gulati recognizes that Klinsmann could have offered something Bradley couldn't. "Does a foreign coach bring certain attributes? The answer is yes," he says. "Especially if he's coached at a high level or played at a high level. But does an American coach bring certain attributes? The answer is also yes. And I think those attributes are different. An American coach obviously brings knowledge of our American setup, knowledge of the American psyche, which may be different from the South Koreans or the Dutch or the Brazilians or anybody else. What that difference is worth is what you have to weigh up in the end. The one thing you get with an American coach, though, is that it's not just a job -- it's more than a job."
More than a job, just as his own as the head of U.S. Soccer is to him. Gulati says it's never occurred to him, but perhaps he sees something of himself in Bradley, a man entirely self-made and self-taught in American soccer.
As for failing to bring home a second World Cup in his time with U.S. Soccer, which started as a volunteer for the successful bid to land the '94 World Cup back in 1987, Gulati, the only man to be a part of both bids, is perhaps less culpable than is widely believed.
In many ways, all the narrative threads of Gulati's life converged in that second bid. All the work, the trouble of getting to know the game and absolutely everybody in it inside and out, from the grassroots to the rarefied atmosphere, over all those years -- it all folded into one gargantuan bid effort. By the time that effort was finally for naught, it had been 16 years in the making.
"I have the sense that since 1994, when we closed the World Cup, the idea in the back of his mind was that we'd go after another Cup," says Carlos Cordeiro, a U.S. Soccer board member and banker who traveled the world with Gulati as the bid's two-man lobbying team. "He definitely had very early on the foresight and the plan to go for this thing."
That allowed for careful and elaborate plotting. Gulati had Cordeiro start attending FIFA and CONCACAF meetings a full two years before the bid officially kicked off so he could get to know the key people. "I don't think Sunil left any stone unturned," Cordeiro says.
Their strategy was different from that of their competition, which ultimately boiled down to Japan, Qatar, Australia and South Korea. The U.S. wouldn't offer itself up as an emerging market -- it had already used up that bullet for '94 -- but a fiscally responsible choice, promising to put far more cash into FIFA's coffers than any other bid could and suggesting there would be more coming if its lands were won over for soccer once and for all. The U.S. also went about the expansive lobbying effort differently. Whereas every other bid left its lobbying up to an army of specialized consultants, the U.S. chose to do it internally, a rare move. "All our competitors were basically hired guns who had no involvement with soccer," Cordeiro says. "But we were U.S. Soccer people."
Between the two of them, Gulati and Cordeiro met at least three times with 21 of the 22 executive committee members who voted: once on a neutral site, once at the 2010 World Cup and once on the member's home turf. They had studied the delicate protocols for the FIFA bidding process -- touting your bid until the months before the vote is a big no-no, for example -- and wined and dined wives, children and anybody else important to the ExCo members. They had studied their targets, made regular calls, sent follow-up correspondence, enlisted two dozen celebrities.
And they claim to have done it all cleanly, even if, as Gulati puts it, "in any game you've always got the ability to play outside the rules."
"One of the key aspects of our bid strategy was that we were going to run a fair and transparent campaign and were not going to even contemplate doing anything of questionable ethics," says MLS commissioner Don Garber, an integral part of the bid. "Sunil never wavered for a nanosecond from that issue."
If even half the allegations being thrown around after the 2018 and 2022 World Cups were awarded on the same day are true, this can't be said for all of the U.S.'s competitors. Many have alluded to foul play. The chief of England's failed 2018 bid, Lord Triesman, most recently said four ExCo members had solicited bribes. A Qatar bid whistle-blower said that two received $1.5 million from the Qatar bid. (Triesman's claim was torpedoed by an English FA inquiry for lack of evidence. The whistle-blower was never heard because FIFA claimed his demands of the governing body were "excessive.")
Gulati won't comment on allegations about opposing bids, telling ESPN no more than "we're just waiting." Nor did he abstain from voting in the recent one-candidate election for FIFA president, which saw Sepp Blatter re-elected. Perhaps U.S. Soccer is hoping that proof against Qatar will materialize and the U.S. will get a chance to bid once again for the 2022 tournament. Or it's afraid of burning bridges for future bids.
So, setting corruption aside, for argument's sake, what went wrong with the U.S.'s bid?
"We only got eight [of 22] votes, in a nutshell," Gulati says. "We had technically the highest-rated bid out of those that were bidding for '22. Commercially, we had by far the highest-rated bid, too, and this is according to FIFA's own internal or external studies. I wish more of the election voting behavior had been based on objectivity with respect to the technical specifications that had been put out."
Would you have done anything differently if you could?
"Unless you've just won everything, you always do something differently," Gulati says. "But within the subset of things that we might have done differently, would any of those have made the difference? I haven't come up with any. It was a unique situation. Out of the 22 ExCo members that eventually voted on two World Cups, eight were involved with bids. So you've got group dynamics, game theory."
Insiders say Gulati isn't to blame, even if the responsibility for the bid was ultimately his. "In many ways the cards were stacked against us, and I don't believe there was anything else we could have done within the rules and guidelines to have won," Garber says. "I believe that with total equivocation. I have no doubt that there wasn't anything else Sunil could have done. He didn't delegate any of the lobbying and took it all on himself."
Gulati looks defeated when he talks about it. But eventually he'll dust himself off and start the process anew. "At some point, I'm sure we'll bid again," he says.
But he isn't ready to think about the actual logistics of it just yet: "The sting is still pretty strong."
---
Read deeper into the Gulati hate. You'll find charges of despotism and pursuing an ego-driven agenda.
He'll confess to the latter charge -- sort of. "I don't know how you're the president of an organization like U.S. Soccer and have no ego," Gulati says. "Clearly, some of what I do is based on my ego, as it is for anyone. But do I think it's an undue influence on [decisions]? The answer is no. Especially when it comes to the whole issue of the coaching decisions, that's got nothing to do with ego."
And if people perceive Gulati as running U.S. Soccer like a tyrant and the organization as opaque, it's only because he seldom explains his thinking. [well....yes. that's what they mean by "opaque."] "We make a concerted effort not to use a megaphone on everything we do or everything I do," Gulati says. "It's not about me personally, it's about the sport. The best people to promote the sport are our athletes, our coaches. [Fans] are less interested in me explaining why we made a certain decision or something else."
Rather than being autocratic, Gulati has a light touch, gently steering the sport through an open discourse, insiders say. "Sunil is not heavy-handed in his approach," Garber says. "In a group dynamic, he's not dominating the room; that's not his personality. But when Sunil speaks, people listen."
"He would much prefer to convince someone of his point of view than impose it on him," Payne explains.
His management style is that of an ideas exchange. Gulati is a sounding board to many.

"I remember right after [being appointed MLS commissioner] spending a lot of time with Sunil and realizing I would not be able to understand the task at hand unless I spent a lot of time with him," Garber says. "I don't think I'd be the commissioner I am today and would have the understanding of the sport I have today without him."
But mostly, Gulati leads by example. "I think they see my passion for the game and the work ethic and the effort," he says.
"Energy is a big part of who he is," says U.S. Soccer CEO Dan Flynn. "It's contagious to all levels of the organization and all of soccer. The energy that is needed to go through all of the daily meetings we set up -- his energy level is really second-to-none."
Gulati is lauded for his ability to explain very complex matters simply, to pick the value out from under the clutter and hubris -- the way he has in his own life. He seldom drinks, isn't moved by fine dining and is uninterested in clothes. For years, he wore the same gray cardigan to U.S. games when others wore suits and ties. "He wasn't all that concerned about appearances," Payne says. "He looked like a graduate student." Gulati's wife, Marcela, is the one who gets his shirts embroidered, who makes sure he looks the part. "She's more stylish than I am," Gulati says, smiling at his own understatement. He is, by his admission, the sort of man who has to be told by his wife that he has a stain on his shirt.
---
Gulati's involvement with U.S. Soccer began when he was 27 after then-U.S. Soccer president Werner Fricker implored him not to send him a 17-page report detailing what was wrong with his federation's youth system. In their first meeting, Gulati had told him straight-up: It's a mess. The Indian-born Gulati had learned as much after being transplanted to Nebraska at age 5 and Connecticut at age 7, then taking up soccer and becoming a coach and administrator for his club team by age 16, an assistant coach to Connecticut's under-16 and under-19 State Select teams and an administrator for Connecticut's and the Region 1 Olympic development program. Gulati sent Fricker a 17-page report anyway and impressed him.
Gulati became heavily involved in the federation at a time when it had just six employees, when it once had to ask the national team to forgo its $5-a-day per diems so it could extend a training camp by a day. It meant he ended up doing everything from laundry to booking plane tickets for players, from tutoring a youth team missing too much school on math to buying balls at Walmart because an under-15 training camp didn't have any.
He was omnipresent, filling every imaginable role and never receiving a penny for his toil from the federation until this day. "When I look back at my career and I think back to so many different moments, he's there," says former national team star Alexi Lalas. In 1995, Lalas had a crucial game for his Serie A club Padova in Italy one day and was slated to face Nigeria with the U.S. in Foxborough, Mass., the next. He made it to both games. "Sunil came with me to Italy and was there holding my hand to make it through that ordeal the entire way," Lalas says. "That was Sunil Gulati, always in the thick of things."
After working on World Cup '94, Gulati transitioned to the embryonic Major League Soccer, eventually being named its first deputy commissioner.
"We were coming up with rules, allocation systems, player contracts, drafts, combines and signing players. Sunil was charged with being at the center of all that. And we had to do it all in nine months," says Ivan Gazidis, who worked under Gulati at that time, ended up succeeding him and is now the chief executive of Arsenal. "I don't think anybody else could have done it except for Sunil Gulati, and without somebody with his personality and drive, I don't believe the league would have been as successful as it was."
Nevertheless, the promising launch of MLS in 1996 was followed by the only two stains on Gulati's career in soccer administration. The first came when he lost his first run for vice president of U.S. Soccer in 1998 to John Motta allegedly because he was seen as too close to the new president, Dr. Bob Contiguglia, and people worried about a consolidation of power. "It was a very close vote," Gulati says. "I was surprised. John was, too."
The second is veiled in secrecy. Early in 1999, Gulati was dismissed as MLS deputy commissioner by then-commissioner Doug Logan. "He fired me, in a nutshell," Gulati says. The official reason given was that Gulati had renewed Tab Ramos' contract for the league maximum without consulting his club, the New York MetroStars, or Logan. The MetroStars purportedly pushed for his removal. Some speak of a last-straw scenario wherein Gulati had taken liberties with his mandate and ruffled a lot of feathers. Others argue he acted in the best interest of the game, even if it represented insubordination and threatened to upstage Logan. The principals involved are legally barred from talking about it. And then-MetroStars general manager Charlie Stillitano was forbidden to speak to ESPN.com about it by his current employer, the Creative Artists Agency.
"Candidly, anybody doing that job well and providing what the league needed was likely to end up being the focus of some degree of dissatisfaction," Gazidis says. "I think it was an almost impossible balancing act."
Regardless of where the truth lies, Logan himself didn't survive the summer of '99 and was soon out of soccer while Gulati's gradual rise to the top of the layer cake carried on. He got elected as executive vice president of U.S. Soccer in 2000. He also accepted the position of managing director, and later of president, of the New England Revolution. In 2006, at long last, he was elected president of U.S. Soccer. (He was re-elected for a second term in 2010.)
According to some, that top job always had been Gulati's goal. "There was nothing unexpected when he stepped into that role as president," says former national team coach Bruce Arena. "I've seen Sunil rise over the years. It was pretty obvious that that was an ambition of his. He's always wanted to be a leader of the sport. I think he loves the sport, and I think he loves the responsibility and loves the challenge and loves the limelight."
Gulati insists he had no designs on the presidency until later on. "Along the way it became something I wanted to do, sure," he says. "But it hadn't been a lifetime dream. Being involved in soccer was accidental in a way because the idea was [to pursue a career in] economic development."
As for that limelight, "I think if you talk to our media guys, they'll say I stay away from that [limelight] far more than I jump into it," Gulati says. "If you walked around a stadium [during a U.S. Soccer game], 99 percent of people wouldn't know who I am."
---
Gulati was on his way to the Mexican League draft when he was introduced to Marcela in a Mexican airport in 1995. They got married in November during the only weekend the U.S. wasn't playing that fall. And they did it on a Friday, because Mexico was playing that Sunday, which would have prevented many friends from coming. They went on only a short honeymoon because the U.S. had another qualifier coming up.
Soccer has left room for little else in his life. "Vacations are the World Cup, and I take the family," Gulati says.
He won't say how many hours a day he spends on soccer. It wouldn't be prudent. Columbia pays him a full-time salary, after all. "It's safe to say I spend a disproportionate amount of time on soccer," he says. In 2010, he spent 140 days on the road for soccer-related purposes, flying 400,000 miles. Since 1993, he has put in an average of 250,000 miles a year. A conservative estimate puts his total flying miles for U.S. Soccer at 4 million.
Gulati even designed his other career to fit around his soccer obligations. Part of the reason he works for Columbia rather than the World Bank, which had always been his intention, is that it leaves enough time for soccer. Gulati can stack the classes he teaches in two days a week and isn't pressured to do research.
So invested is he in the sport that after the U.S. qualified for '98 World Cup in a game in Vancouver, Gulati spontaneously broke out into a dance in front of the whole team. After the women won the '08 Olympic gold medal, he got down on a knee in front of everybody and proposed to coach Pia Sundhage, imploring her to stay on longer.
But aside from those rare moments of transcendent joy, what in the cost-benefit analysis of his own life does Gulati get in return for all the sacrifices? For all the criticism? For all the missed holidays and birthdays? "Given the training I have, there were certainly more lucrative financial paths to have taken," Gulati says. "But I get this fantasy life of doing two things that I'm very passionate about. I love walking into an economics classroom, and I love trying to figure out how we can continue to grow the game in the U.S."
"And, yeah, there are some pretty good seats at World Cup games as well," he adds. "That's a perk, I guess."
---
Professor Gulati has morphed back into President Gulati. This morning, he moderated a forum on African economic development featuring the chairman of the 2010 World Cup in South Africa, Danny Jordaan. It ran long, so he missed his son's soccer game, which is rare. Then he spoke at a coaches' convention at the new Meadowlands Stadium in New Jersey that will hold tonight's U.S.-Argentina friendly. Now he is perched on a high chair in front of three dozen U.S. fans who have traveled from as far as New Mexico to see the game. This is the second in a series of Fan Forums, a town hall meeting-style Q-and-A with Gulati intended to make members of the official supporters group and the hard-core fan clubs feel heard and the federation held more accountable.
One of the questions is about corruption in FIFA. "Hopefully there will be changes made to make the organization a bit more transparent," Gulati says. "Do I think FIFA could make strides in its governance? Yes."
Then somebody asks whether Gulati was frustrated by the failed World Cup bid. The questioner has struck a nerve.
"I wish I had a better understanding of what people voted on," he says, looking deflated. "Tell us and we'll all save some time and go home."
---
In the hours before the game, Gulati does his rounds. He walks through the Meadowlands' dimly lit concrete corridors to see whether everything looks the way it should. Behind us a man is practicing the national anthem. Gulati checks on the field and asks a groundskeeper whether the dreadful turf will be watered again before the game. Then he goes up to the owner's box, where he will host his guests later. He switches up a few seat assignments, makes sure there is food and drink.
I wonder if he isn't micromanaging. "No," he says. "I'm just trying to feel good about things. It's nervous energy as much as anything else."
We get to a luxurious foyer where VIPs will be entertained by a lavish spread and an open bar before the game. It's empty now. Gulati checks his BlackBerry for the Revs score. "Yeah!" he shouts, pounding his fist on a table. "We're up 2-0!" He calls Michael Burns, the New England Revolution's VP for player personnel. "How we doing, Burnsy?" he asks. "Yeah, I saw the score, but how's the game?"
When people start to stream in, Gulati emerges as a natural host. He greets his family and congratulates his 13-year-old son, Emilio, wearing a blue USA jersey with "Gulati" and a 6 printed on the back on winning his game 4-0 today. Then he starts working the room. He knows everybody in it. He welcomes old friends, soccer dignitaries, Columbia colleagues, a former student and his family and a guy he met on a train who Gulati thinks could become an Internet billionaire. "I'm hoping he might be the next [Facebook founder Mark] Zuckerberg and give us a lot of shares," he jokes. In the quip lies a fundamental truth about Gulati. He is forever positioning his sport for whatever happens to come next.
Gulati is a guardian of the big picture. "He accepts the high points and he embraces the low points," Flynn says. "He's kind of always there with you in a leadership role, reminding us: Hey, there is tomorrow, there is next week, there is next year because we have to keep growing, we have to keep moving."
So what is Gulati's big picture?
"The big picture is comprised of lots of little pieces," he says. "In its broadest form, it's to have a sport that is woven into American society and is part of American culture in the same way that some of the more traditional sports are. It's having a sport that is all-inclusive and takes full advantage of the extraordinary immigrant communities that represent the U.S., as well as the early and advanced role of women vis-à-vis some countries around the world. And the third piece of that is being successful on the field -- winning. I think all of those are linked. To be a pre-eminent sport in the United States and one that is successful on the field."
The core of that objective is rather straightforward. "His overall view is: How do we make soccer relevant 365 days a year?" Flynn says. "That's what drives Sunil Gulati."
Gulati calls Burns again. The game is over. The Revs have won their first home game of the season. "Three points," Gulati says. "Well done, baby!"
After zipping through the room like a mosquito for another hour, it's time for Gulati and Marcela to corral their many guests up to their seats. They go in two parties. Gulati's cuts it close and finds its passage blocked by a locked door. So they have to cut across to the other side of the stadium via the field. As he walks between the boarding and the heaving stands, a fan recognizes Gulati.
"Suniiil!" he cries excitedly.
Gulati smiles and points back at him. Then he turns to me.
"See?!" he shouts over the din of the stadium. "They don't hate me!"
---
If Gulati were a nail-biter, that's what he'd be doing right now. The U.S. is getting overrun by Argentina, whose players have to only get open for passes from the brilliant Lionel Messi.

He's an emotional observer. When defender Oguchi Onyewu loses the ball to an attacker, Gulati winces. When the subsequent chance goes begging, he exhales hard in relief. He sighs after a bad U.S. pass, covers his face during a nice Argentina attack, shakes his head when the referee blows a handball call at the edge of Argentina's box, winces again when another attack goes hopelessly awry, claps for a good Tim Howard save, jumps to his feet when Landon Donovan goes on a run and claps enthusiastically even when the attack peters out. When Argentina scores, Gulati leans his hand on his fist and tightly clenches his mouth shut.

After hobnobbing in the lounge attached to the box over portobello mushroom wraps and cocktails at halftime, he is the only person in his seat in time for the second-half kickoff. Most guests gradually trickle out, put off by the cold.

When the U.S. nabs an equalizer on Juan Agudelo's poke from close range, Gulati goes berserk. He explodes out of his chair and is, for a moment, airborne. After he lands, his jacket can scarcely contain him, the tails whooshing as he spins around, hugging Flynn, punching the air repeatedly and doling out finger-stinging high fives.

The U.S. settles for a draw.

I ask him how he feels. "You never like to do anything but win," he says.

Then he steps back and pieces together the little fragments to reveal the big picture. "But 1-1 against Argentina after the way they held the play in the first half, that's a good comeback," he says. "And we had 78,000 people -- a complete sellout and a great event. We'll take it."



Thoughts? I guess I agree with what he's saying: promote the sport in the U.S., promote the involvement of immigrant communities and women, make our teams better--but I'm not sure that U.S. Soccer is necessarily living up to those standards. (I don't blame them for losing the WC bid, though.) Also I wonder who's going to send him the next 17 pg report on the problems in the youth system.

source